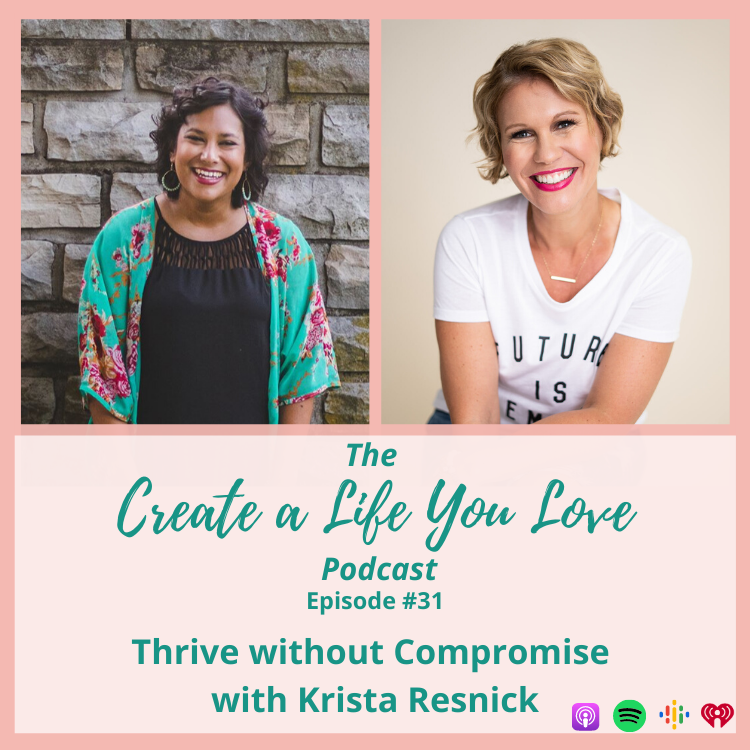 Welcome to today's episode of The Create a Life You Love Podcast.
Today's guest is Krista Resnick. Krista is a women's leadership expert, coach, podcaster and the founder of The Selfish Bad*ss Movement. She helps overwhelmed women thrive without compromise by practicing the Art of Radical Soul Care.
You can connect with her at:
Website: www.kristaresnick.com
Facebook: https://www.facebook.com/theselfishbadass/
Instagram: https://www.instagram.com/kristaresnick/
⭐️⭐️For all listeners, Krista shared SO. MANY. FREEBIES!!!!⭐️⭐️
⭐️"Why Selfish is the New Black" - This eBook is ROBUST! It is all about stress and why learning to respond to stress appropriately matters. It then moves into teaching readers all about the 6 elements of self care, the true deep inner self care. This will help you reduce your stressors so you can show up in alignment with your assignment and lean into the extraordinary leader that you are.
👉Go grab your copy at https://bit.ly/sitnb-ebook
⭐️7 day Challenge - The "7 Secrets of Sustainable Success". It's insane how amazing this challenge is!!! 
👉Head over to https://kristaresnickcoaching.vipmembervault.com/…/…/1025072 to check it out
⭐️BRAND NEW 8 week Group Coaching Program "Made For This" - it is a seriously kick ass program to help female leaders, entrepreneurs and high achievers align with their purpose and vision so they can live a life of Courage, Clarity & CONVICTION!!!
👉Head over to https://bit.ly/made4this to sign up.
⭐️Morning Brew - Krista's totally free once a month group connection/coaching group. Come chat/coach around a certain topic each month. This is a great way to see what coaching is like and get clarity around different topics in your life. This next month is part 2 of toleration detox - what are YOU tolerating in your life?
👉Sign up at http://bit.ly/krmorningbrew
⭐️As a thank you for tuning in, Chantal also opened up a few slots for 30 minute 1:1 clarity calls. These happen via zoom and are 100% complimentary.⁠ Head over to 👉 https://calendly.com/calyl/clarity⁠
👀You can catch other video episodes of The Create a Life You Love Video Podcast within the free Facebook Group: Create a Life You Love Community. facebook.com/groups/CALYLCommunity
⁠
🎙Do you have a message you want to share and want to be a featured guest on The Create a Life You Love Podcast? Applications for Season 2 are being taken at https://forms.gle/harVqzVkTZg4ivyf9
Enjoy the Journey!
Chantal