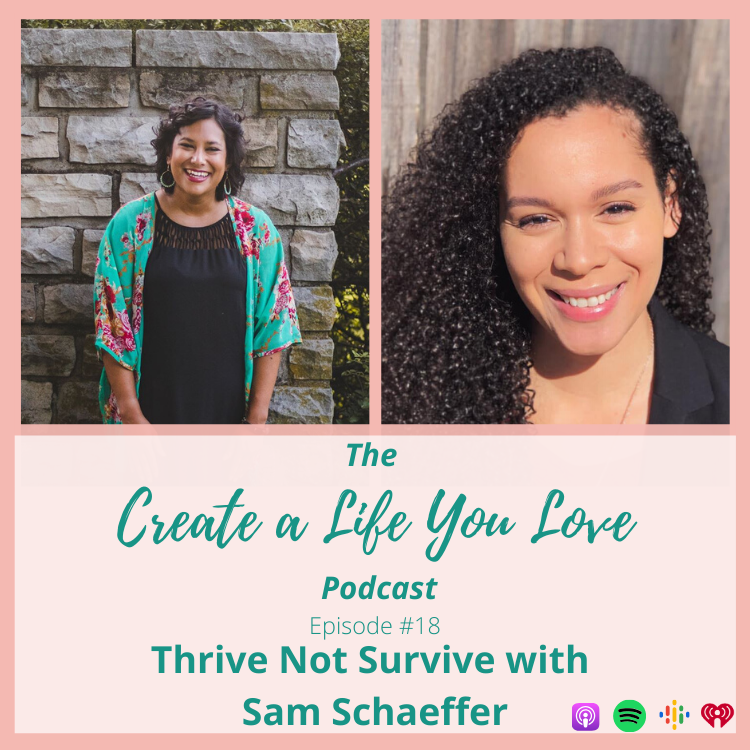 Welcome to the thirteenth episode of the Thrive Not Survive series, where I connect with others from around the world on a Facebook Live and we share helpful tips to help you THRIVE not just survive during turbulent times.  
I was thrilled to have
Samantha Schaefer
on. She is a working mom of 3 and a self-improvement enthusiast who is passionate about helping families build strong financial strategies
Samantha started out with humble beginnings and loves working alongside her financial clients as she helps them using her down to earth, easy to understand tools and strategies (yours truly being one of them 😉).
A few of the topics she hit on were:
Getting a snapshot of your current financial situation
Abundance vs Scarcity Mindset
And so much more!
You can connect with her:
Facebook:

Instagram:

LinkedIn:
Other Resources Mentioned:
The host, Chantal Cox, is the author of "Create a Life You Love: 10 Healthy Habits to Transform Your Life Now." She empowers women who want to break the chains of anxiety and depression through transformational coaching and sharing the CALYL Foundational Habits.
You can catch other episodes of Thrive Not Survive within the free Facebook Group: Create a Life You Love Community. https://www.facebook.com/groups/CALYLCommunity
🎙Do you have a message you want to share and want to be a featured guest on The Create a Life You Love Podcast? Apply at https://forms.gle/SLBueVJEtSKkKf1h7
Enjoy the Journey,
Chantal