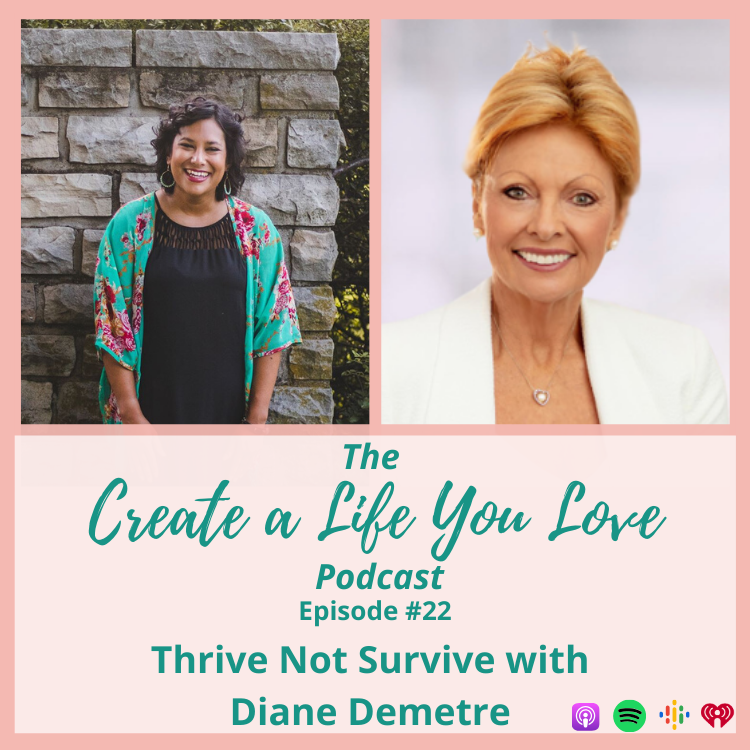 Welcome to today's episode of the Thrive Not Survive series, where I connect with others from around the world on a Facebook Live and we share helpful tips to help you THRIVE not just survive during turbulent times.  
The featured guest was Diane Demetre who joined us all the way from Australia. Diane is an entrepreneur, author, speaker and Master Mindset Mentor. With over forty years' experience teaching, speaking, coaching, counseling and leading teams of people, Diane has developed an experiential skill set that shifts human perspective to the Master Mindset of being more, doing more of what matters and having more of what counts.
⭐️ Be sure to go take her FREE Mindset Mastery Assessment at mastermindset.com.au
This is also how you can be kept informed of the details about her soon to be released online course, The Master Mindset Method.
I can't wait to go get my copy of her newly released book, Master Mindset: 21 Transformative Ways To Master Your Life In This Uncertain Time 📚
Paperback and kindle versions can be found at https://amzn.to/2ykOTgl
The link to Diane's YouTube Channel is: https://www.youtube.com/channel/UC5Kog4G5rJKeOStqsHPTgag
And the videos for the "Seven Author Insights Writing Tips" are in the "BOOKS & WRITING" playlist.
This was truly a delight and I can't wait to see where else Diane's journey takes her.🤩
You can also connect with her on:
Facebook https://www.facebook.com/dianedemetrehome
Instagram https://www.instagram.com/mastermindset.dianedemetre/
Website: https://mastermindset.com.au/
The host, Chantal Cox, is the author of "Create a Life You Love: 10 Healthy Habits to Transform Your Life Now," and founder of Create a Life You Love Coaching. Chantal empowers motivated professional women who want to break the chains of anxiety and feelings of unworthiness through transformation coaching and sharing the CALYL Foundational Habits.
You can catch other episodes of Thrive Not Survive within the free Facebook Group: Create a Life You Love Community facebook.com/groups/CALYLCommunity
🎙Do you have a message you'd love to share? Apply to be a featured guest on The Create a Life You Love Podcast at: https://forms.gle/KpvzBqfBuZAXmnoh8
Enjoy the Journey,
Chantal ❤️