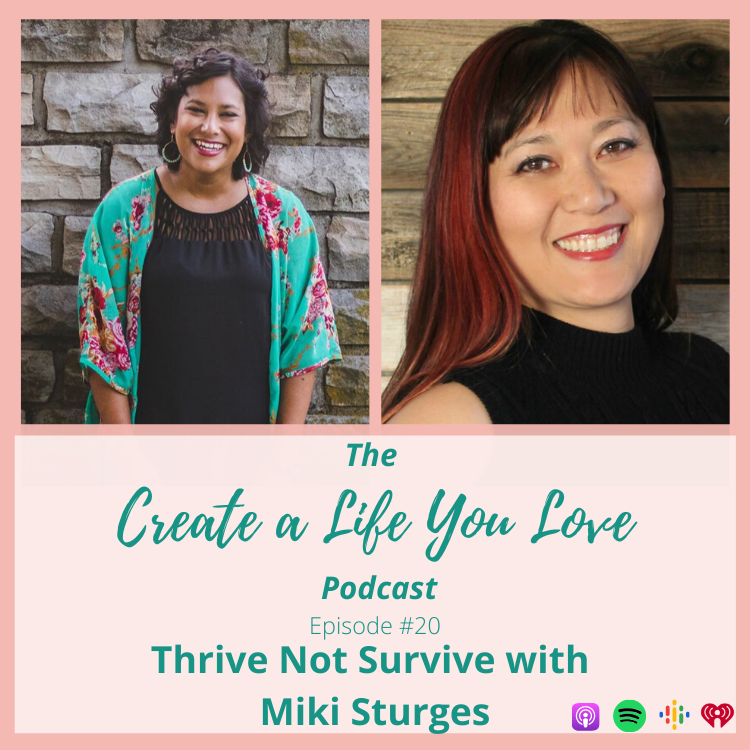 Welcome to today's episode of the Thrive Not Survive series, where I connect with others from around the world on a Facebook Live and we share helpful tips to help you THRIVE not just survive during turbulent times.  
It was wonderful to connect with Miki Sturgis.   Miki shared about her story, her journey, and her amazing group for women who have survived and are ready to thrive after experiencing domestic abuse.
Check out her private group Rise Up Women Movement ❤️
You can also connect with her on:
Facebook page: https://www.facebook.com/coachingwithmiki/
FB group for Women: https://www.facebook.com/groups/riseupwomenmovement/
Website: https://mikisturges.com/
Miki shared several amazing books that have helped her on her journey:
Limitless: Upgrade Your Brain, Learn Anything Faster, and Unlock Your Exceptional Life
https://amzn.to/3bMWfYv
Why Does He Do That?: Inside the Minds of Angry and Controlling Men
https://amzn.to/2W3Ij5I
The Miracle Morning: The Not-So-Obvious Secret Guaranteed to Transform Your Life (Before 8AM)
https://amzn.to/3bMuorx
Everything Is Figureoutable
https://amzn.to/3bYLClD
Big Magic: Creative Living Beyond Fear
https://amzn.to/2KHehiV
Start with Why: How Great Leaders Inspire Everyone to Take Action
https://amzn.to/2yV9Pdz
The 5 Second Rule: Transform your Life, Work, and Confidence with Everyday Courage
https://amzn.to/2YeDeu7
The host, Chantal Cox, is the author of "Create a Life You Love: 10 Healthy Habits to Transform Your Life Now." She empowers motivated professional women who want to break the chains of anxiety and depression through transformational coaching and sharing the CALYL Foundational Habits.
You can catch other episodes of Thrive Not Survive within the free Facebook Group: Create a Life You Love Community.  https://www.facebook.com/groups/CALYLCommunity
🎙Do you have a message you want to share and want to be a featured guest on The Create a Life You Love Podcast? Apply at https://forms.gle/SLBueVJEtSKkKf1h7
Enjoy the Journey,
Chantal